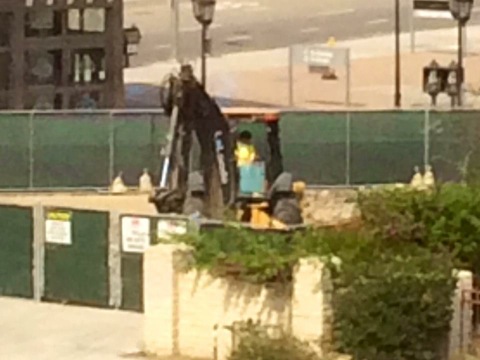 The Universal Pedestrian or "Lankershim Boulevard" proposed bridge across Lankershim Boulevard will connect the Universal City Metro Red Line Station and Plaza with property owned by Universal Studios. It will be located 21 feet from the Campo's south adobe wall and provide an elevated view of the Campo grounds and museum building. It is to be constructed to touch three corners of the Lankershim-Campo de Cahuenga Way entrance to CityWalk and Universal Studios. Site One of the Project is the point closest to the Campo.
Metro's obligation to build a passageway dates to the early 1990s. Nearly two decades ago, Metro board members agreed to build a tunnel under the busy thoroughfare in exchange for placing the station at Lankershim Boulevard.
But over the years, board members delayed action because of the cost. In 2002, board members rejected a tunnel plan that would have cost at least $18 million, prompting NBCUniversal to file a legal claim over Metro's inaction. Eventually, the two sides compromised on a pedestrian bridge.
Construction has begun with fencing put into place adjacent to the Campo's adobe walls on the south side of the Campo's site. It blocks the Campo's entrance to the MTA Plaza. During this time visitors will be routed to the Campo's front passenger gate.   The directional signs are to be attached to the fencing by MTA.
It has been recently learned that Site Two, directly across Lankershim on the Universal side from Site One, has the best potential for archaeological discoveries. This matter will have to be addressed properly by MTA before construction can move forward.
Deuk Perrin, President of the Campo de Cahuenga Historical Memorial Association is delighted at the forthcoming pedestrian bridge, believing tourists will spot the Campo de Cahuenga, which sits nearby, on their way to CityWalk and come visit.