Early American Period
(1848 – 1869)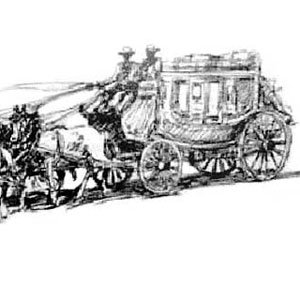 In 1848, gold was discovered at Sutter's Mill beginning the Gold Rush period of California history. Within a year tens of thousands of Forty-Niners were to invade the California gold fields, overwhelming the traditional Californio culture in the northern portion of the state.
By 1850, the region's population had increased ten-fold. California enters the union as a free state with John C. Fremont becoming one of the state's first two U.S. senators. Andres Pico, the other Campo treaty signer, eventually became a state legislator.
In California, the Californio rancho economy continued into the mid-1860s. Demand for beef in the Northern California gold fields enriched many of the large Californio ranchos. A combination of drought, a smallpox epidemic that ravaged the rancho Native-American working class and competition from improved strains of beef cattle imported from the eastern U.S. ended Californio rancho influence.
The Butterfield Overland Mail Company was awarded the nation's first transcontinental mail-and-passenger route at $600,000 per annum by an act of Congress in 1857.
The Campo de Cahuenga, located on the El Camino Real, became a Butterfield Stage Station in 1858.
The Route had two eastern terminals on the Mississippi River at St. Louis and Memphis with the forks converging at Fort Smith, Arkansas. The stage line ran a southern route through Oklahoma, Texas, New Mexico, Arizona and Southern California. The route turned north, heading to Los Angeles and ending at the Western Terminal in San Francisco.
The Butterfield Route was over 2,700 miles in length (the longest in the world) with the first east-to-west run lasting 23 days and 23 hours. The fare to travel the one-way distance was set at $200.
Butterfield Overland Stage service lasted from 1858 until the outbreak of the Civil War in 1861.
The Stage line was an outstanding success offering reliable service for the 2.5 years of its existence.
During the Civil War the Campo became an encampment for Union soldiers.
In 1869, Lankershim and Van Nuys acquired the southern half of The Valley.