Spanish Period
(1769 – 1821)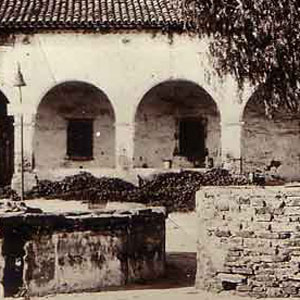 In 1542, fifty years after Columbus "discovered" America, the Spanish sent Juan Rodriguez Cabrillo to explore the remote California coast.
In the 1560s Spain began trade with the Philippines. Spanish galleons laden with Mexican silver were sent from Acapulco to the new colony in the Philippines to trade for spices, silk and porcelain. The return trip from the Philippines brought galleons along the California coast on the way south to Mexico. Spain would make this annual trip for 200 years before California would be settled by the Spanish.
Reacting to Russia's expansion to Alaska, Spain was induced to settle California to defend its claim to the province. A three-pronged approach that had been successful in Mexico was employed. Missions were established to convert and "Hispanicize" the local Indian populations. Soldiers were sent to establish presidios and enforce mission rules. Pueblos were built by Mexican settlers to further Spain's hold on the province.
In 1769, the first California mission and presidio were founded in San Diego. That same year the new Spanish governor, Gaspar de Portola, traveled through the San Fernando Valley on his way to establish the future provincial capital at Monterey.
In 1781, the pueblo of Los Angeles was founded by "Los Pobladores" who came from the Mexican province of Sonora.
In 1797, Mission San Fernando was founded by Father Fermin de Lausen in the San Fernando Valley.
The Campo de Cahuenga adobe was erected sometime between 1795 and 1810 either by the Verdugo family or Mission San Fernando fathers.
By 1811 the Campo was used by Mission San Fernando, probably as a rancho for the mission's cattle operations.
The revolution of 1821 freed Mexico from 300 years of Spanish rule. In 1822, the Spanish flag was lowered for the last time in California as Mexico sent authorities to govern the remote province.